THIS ARTICLE WAS CO-WRITTEN BY IFEOMA & REMMY
Have you ever wondered how the clothes we put on best describe our identity and self-esteem? With fashion being a vehicle for self-expression and connection to the world. a person's wardrobe speaks volumes about an individual.
I recalled having a conversation with Dele. Dele was complaining bitterly about how the cloth he wore on a particular day made him feel awful. How he gave his cloth to a tailor and tailor never gave him the designs he wanted. Conversing with Dele, I could tell the self-esteem he felt wearing the particular cloth he complained about. It was then I realized that most times our clothing is a reflection of our inner thoughts and emotions. Fashion provides an opportunity to be creative and express ourselves authentically. It allows powerful communication which speaks volumes about who we are without even uttering a word.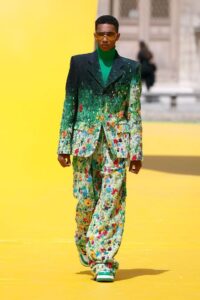 Art has always been a means of communication within different contexts, and the infusion of creativity that sparks new ideas.
Fashion is more than just clothes; it is a form of art. It is a means of creative expression carried out by designers and displayed on our bodies as blank canvases. The fusion of art and fashion enables individuals to express their emotions, challenge societal norms, and break boundaries. Fashion is all about expressing yourself through clothing and accessories. It's a way to showcase your unique style and personality. From trendy streetwear to elegant formal wear, fashion allows you to experiment and have fun with your look. Remember, confidence is the key to rocking any outfit. So go ahead, embrace your inner fashionista and let your style shine! ✨👗👠 .. Meanwhile, Dele never failed to dress up after his awful experience with his tailor. He is always giving us hot hot!!!.